Leafy greens juice is intravenous injections of vitamins that absorb in the blood and immediately affect your body. But how to extract this juice from greens? Obviously, it is a laborious and energizing task. The selection of the best juicers for greens is somewhat challenging.
Not each juicer can extract the juice from leafy greens properly. The question raised is what types of juices machine are best suitable for greens? Simply masticating juicers are the best choice that can extract juice from fleshy and non-fleshly greens like celery, spinach, etc.
These heavy duty masticating juicers can be both horizontal or vertical.Furthermore with their twin gear or single auger spiral action, these juicers segregate food filaments and extract juice after retaining nutrients.
It is noteworthy that centrifugal juicers can also extract the juice of non-fleshy greens only like green kiwi, green apple, and many more. Consequently, the juice obtained contains fewer nutrients and is oxidized soon.
Before moving forward you need to know what are leafy greens and why these are important to our body.
What About Awesome Green Juice?
How To Make Leafy Greens Juice?
For making delicious green juice,give preference to "organic produce".This produce is actually fresh vegetables without contamination of chemicals like fertilizers or pesticides.
We have selected for you a simple but outstanding points for preparation of green juice.It has following the general sequence.
Prep work:
Wash your vegetables and fruits with tap water.
Rub gently to remove dirt or any contamination.
Peel out skin and remove slices(in case of fruits)
If vegetables feel bitter, add some flavor to the fruit to make it tasty. For this apple or orange are great fruits that make the bitter juice delicious. Similarly addition of herbs and spice like mint or ginger make it somewhat more tasty.
Use a good quality juicer. What is the best juicer to buy? It depends on your budget, mode of usage, and time availability.
Green Juice Variations:
You can use different combinations for making green juice.e.g you can mix celery with spinach or parsley.Similarly you can use lime instead of orange.Likewise mint in spite of parsley.Some popular vegetables,fruits,herbs and spice are given below for you ease.Make selection according to your choice:
Leafy greens: Celery, kale, spinach,broccoli and romaine lettuce
Sweet fruits: Berries, apples, melons, grapes, mango, papaya, pears and pineapple
Acidic fruits: Grapefruit,oranges and lime
Root vegetables: Carrots root beets
Herbs: Parsley,mint and basil
Spice: Ginger,cayenne pepper, and paprika
Flashy and non fleshy vegetables and fruits
What Are The Health Benefits Of Green Juice?
Following are some popular Vegetables or veggies which are best for green juice:
Celery
Spinach
Kale
Parsley
Wheatgrass
1-Celery:
Celery (Apium graveolens)is a herbaceous plant of the parsley family. This green plant is cultivated as a vegetable and diversified in usage. Likewise, it is cooked as a vegetable and can be used in multiple ways. Moreover, it is used in soups, pickling as well as an used as an appetizer.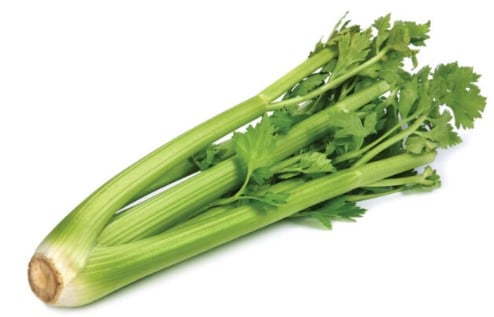 Celery is a biennial plant and grows in wet places.Its seeds and roots are mixed with salt to form celery salt that is health tonic.Similarly celery oil is also a useful remedy against many diseases.
Most people demand celery stalks as they consider it only a healthy tonic. More interestingly, its leaves and seed are also beneficial as these are also nutrients rich.
Additionally Organic celery juice is the best remedy for a large number of diseases as it contains antioxidants that fight against diseases.To add more its juice is best for weight loss,stomach disorder,cholesterol,heart diseases and cancer diseases.
2-Spinach
Spinach (Spinacia oleracea) is a leafy green vegetable. It is an annual plant and grows best in moist places. In addition, this plant is used as a vegetable as well as salad garnishing purpose.
Furthermore, spinach is a delicate plant as Its leaves become yellowish or undergo a process of decaying soon. Moreover, its leaves are of three kinds i.e curly, semi-curly, and flat leaves.
Additionally, it is a rich source of potassium and magnesium, vitamins, iron, protein, and zinc. In addition, It contains a beneficial mixture of phytonutrients, as well as antioxidants that protect your body against multiple diseases.
One more interesting benefit is spinach is enriched with insoluble fiber and keeps the stomach healthy. Moreover, spinach prevents constipation and other belly problems.
3-Kale:
Kale is leafy green that belongs to the cabbage family.It is noteworthy that it can survive in extreme weathers like extreme summer or winter.Probably it is due to its strong leaves that support its life.
More interestingly kale is available in many vibrants colors like dark green,pink,purple as well as white.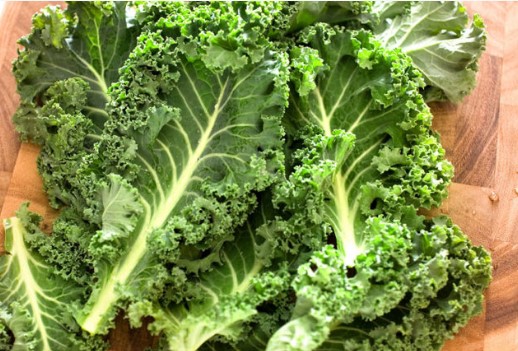 Additionally kale is used in soups.pizza,salad and smoothies.Kale juice is a source of a large number of useful nutrients.Some people drink pure juice whereas others mix some fruit in it like orange,apple or lime to change taste as it is somewhat bitter.
Similarly, It is a great source of antioxidants, vitamins, and other nutrients to protect your body against dangerous diseases. Furthermore, it helps in lowering cholesterol, heart diseases, weight loss,diabetes and cancer-fighting leafy green.
4-Parsley:
This leafy herb belongs to the Apiaceae family which is used in many types of cooking medicinal purposes. Additionally, its leaves, seeds, and roots are used as remedies for many diseases.
Furthermore parsley is available in both flat leaf, as well as curly leaf.Similarly it is found in both dried and fresh form.
Do you want to enjoy parsley juice benefits?Its juice is bitter in taste so the usage of lime adds flavor to its taste. . Similarly it is used in soup,sauces and as vegetables.
This great herb is a great source of  Vitamins, calcium, and iron so protects your body against multiple diseases. From a medical point of view, this herb fights against cancer, liver disorder, and skin allergies.
5-Wheatgrass:
Wheatgrass belongs to the wheat plant, Triticum aestivum. This powerful nutrient-packed plant is available in the market as powder as well as in liquid form. Moreover, it is also used as a food supplement to cure multiple diseases, especially weight loss.
From a medical point of view this useful plant is enriched with vitamins,iron,calcium,magnesium and chlorophyll.All of these improve your health and provide relief against a number of diseases.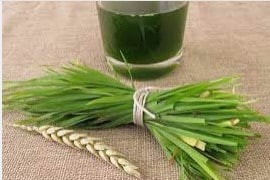 Other than this wheatgrass provides relief in constipation, weight loss, nausea, arthritis and diabetes. To add more this wonderful plant is uplift your immunity system and fight against cancer disease.
Normally wheatgrass is used in the juice form. You have to crush the leaves and masticate into the juicer. For this purpose, you have to buy the best juicers, available in our best juicer guide with medical medium, pass this plant into masticating juicer and get fresh nutrient-rich juice.
Best Juicers For Greens-Recommended Models:
We have carefully prepared a list of outstanding juicers for leafy greens. All of these juicers are versatile and attractive. Furthermore, we have given preference to these juicers on the basis of durability, cleaning ease, and flexible handling.
IMAGE
PRODUCT
FEATURES
PRICE

BEST MASTICATING JUICER

Omega Nutrition Center Juicer

Features: Multiple usage,Auto pulp ejection ,Long juice shelf life,dishwasher safe parts,Attractive and powerful
Benefits: Multiple nozzles,operates as pasta extruder,food processor,homogenizer and grinder.

Check on AmazonRead Full Review

MASTICATING RUNNER UP

KOIOS Juicer

Features: BPA free parts,quiet with 150 watts motor,no clogging,high juice yield
Benefits: easy to clean,durable,easy to assemble and disassemble

Check on AmazonRead Full Review

BEST CENTRIFUGAL JUICER

Mueller Austria Juicer Ultra Power

Features:Wide Chute, Dual speed motor,BPA free parts
Benefits: Assembly of two jugs,Quiet operation,1100 Watts motor

Check on AmazonRead Full Review

CENTRIFUGAL RUNNER UP

Breville BJE430SIL Juice Fountain

Features: Extra wide chute,juice nozzle,safety lock
Benefits: Large juice container and pulp collector,affordable,long juice shelf life

Check on AmazonRead Full Review

BEST INEXPENSIVE

Hamilton Beach Masticating Juicer

Features: BPA Free parts,easily washable parts,150 Watts slow motor
Benefits: Attractive and pocket friendly,low electricity consumption

Check on AmazonRead Full Review

INEXPENSIVE RUNNER UP

Aicok Slow Masticating Juicer Extractor

Features: BPA free material,Less noise,Anti Clogging system
Benefits: Portable, Slow motor,Two direction button

Check on AmazonRead Full Review

BEST COMPACT

Kuvings B 6000SR Juicers

Features: Wide chute,Low speed,Quiet in operation
Benefits: suitable for babies food,smoothies in addition to juice

Check on AmazonRead Full Review

COMPACT RUNNER UP

Tribest SW-2020 Slowstar

Features: Strong DUE blade,Powerful motor,BPA free material
Benefits: Use for multipurpose,powerful motor,affordable

Check on AmazonRead Full Review

BEST BRAND PICK

Omega Nutrition Center Juicer VSJ843QS

Features: Ultem plastic auger,BPA free,Automatic wipe system
Benefits: Vertical structure,Slow operation

Check on AmazonRead Full Review

BEST PREMIUM BRAND

Omega J8005 juicer

Features: External pulp discharging system,2 horsepower motor,quiet in operation,anti jamming system
Benefits: easy to assemble and disassemble,multifunctional juicer,Long Storage period

Check on AmazonRead Full Review
Let's figure out these best juicers for greens.
Best Masticating Juicers:
1-

Omega Nutrition Center Juicer

:
Food processor: You can prepare soft foods for babies, Similarly you can chop garlic, red pepper, or ginger.
Homogenizer:With this versatile machine you can also prepare frozen desserts,nut butter from fruits and vegetables.
Grinder:You may grind coffee beans and flour with this appliance
Juicer: With this multipurpose, you can extract fresh juice from soft as well as hard fruits and vegetables including wheatgrass and leafy greens.
Pasta Extruder:With its specific nozzle,you can make homemade pasta within few minutes.
One massive advantage of this juicer is its auto pulp ejection mechanism. It ejects pulp automatically in the waste bin and you have not to stop the machine from discarding waste. In other words, you can get continuous juice without break.
Moreover, low speed(80 rpm)protects from clogging. You can get juice without a clogging hindrance. In addition, the juice obtained is foam-free due to low rpm. Also, the juice extracted is free of oxidation. To add more juice is protected from degradation and retained for 72 hours.
Lastly, it is best suitable for celery or leafy greens. The mastication system of this best slow juicer for celery consists of two different types of augers i.e white and black. With any of these augers, you can get vitamin-rich juice at 75-85 rpm.
Finally it is fully recommended for multiple recipes.With its single gear auger,you can extract nutrient rich,antifoaming juice without oxidation.In addition of juicing,you can take benefits from its non-juicing functions like pasta making,frozen dessert preparation as well as babies food.Overall it is good juicer with multiple accessories.
2-

KOIOS

Slow Masticating Juicer For Greens:
Additionally, this smart juicer works at 60 decibels(db) so you can make juice in the morning without disturbing your family members. Moreover, its 150Watts motor enables it to run without minimum noise. Another key point is this slow juicer is BPA free so you can serve juice to your babies without a health hazard.To Add more there is no blade or sharp part that can injure your baby.
Besides this, it is easy to assemble and disassemble. You can wash it easily by separating its parts without effort. Other than this juicer comes with a 10 years warranty. You can get its parts free of cost.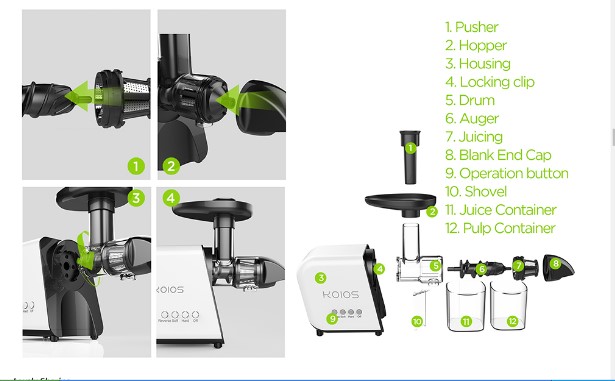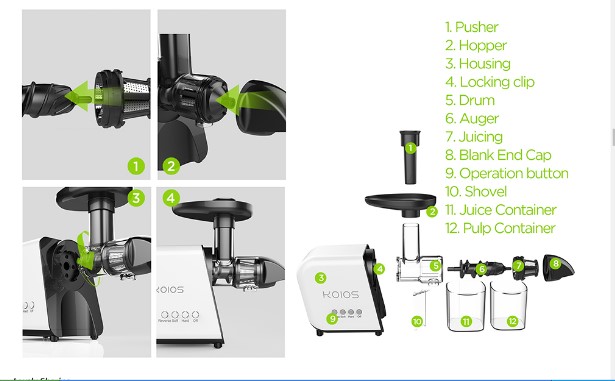 Lastly, it is a good juicer with a high juicing yield. Its auger system provides nutrient-rich juice with large shelf life(approx 72 hrs). Moreover, if you are health conscious, this juicer is the best choice as its parts are BPA-free. Finally, due to easy disassembling parts, you can wash it within 2-3 minutes. So it is a good choice for slow juicer lovers
Best Centrifugal Juicers:
3-

Mueller Austria Juicer Ultra Power:

:
Most importantly its 1100 watts motor works at two different speed i,e fast and low.At fast speed(18000rpm),it makes juice quickly for hard produce.An overload protection system protects from overheating the appliance.Similarly at low speed (12000-15000rpm),it extracts juice of soft produce.
Furthermore, its anti-slip silicone-based feet protect it from slipping. Likewise, its anti-drip system helps to provide juice without spillage.
More interestingly it run at low noise unlike other centrifugal juicer.This professionnel look appliance works at only 60 db.You can make juice without disturbing your family members.In the end it is easy to wash.you can disassemble easily and place in dishwasher for washing.A brush is available in its packing.You can clean the basket with it to remove fibers.
Finally, it is a fast-speed juicer. Within 4-8 seconds you can get fresh juice without clogging. Its dual-speed motor optimized to extract juice at different speeds depending on produce(soft or hard).To add more it is durable and attractive. The wide chute of this juicer is a prominent attribute that saves food prep time. In the end, it is a sleek design juicer with a modern look and wide chute.
4-

Breville BJE430SIL Juice Fountain Cold Centrifugal Juicer

:
Another key point is that this juice fountain appliance contains an extra-wide chute(84mm). So you can make juice without cutting fruits like apples etc hence it will save your prep time. Moreover sealing jug helps to preserve juice up to 3 days in the refrigerator.
To add more LED display lights glow when the motor becomes overheated.You can turn off appliances for safety purposes and for long instrument life.
Last but not least its two control settings are helpful for making juice from hard and soft produce.At low speed(6500rpm)you can get juice of leafy vegetables and soft fruits.Similarly at high speed(16000rpm)you can get juice of hard vegetables.
Finally this piece of cake appliance processes a good juicing system.You can get juice from fruits and vegetables with large Juicing shelf life(24-72 hrs).Additionally if you want to enjoy centrifugal juicer with minimum nutrients loss,this appliance is best choice.Indeed it is best choice for those who require large quantity juice with less pulp.At the end it is good juicer with less budget.  
Best Inexpensive Juicers:
5-

Hamilton Beach Masticating Juicer For Greens:

:
Furthermore its parts are easy to clean.you can wash it easily in the dishwasher within a few minutes.Similarly its parts are conveniently assembled and disassembled.Although its parts are small but you need no extra effort for its fitting.
Finally, it is a low-budget juicer with an attractive smart look. You can make juice of leafy greens and hard produce with less effort. Due to a low power motor of 150 watts, it extracts juice 2-X more than a centrifugal juicer. To add more it has low noise so you can make a juicer without disturbing family members. In the end, it is the best juicer within an affordable budget.
6-

Juicer Machines, Aicok Slow Masticating Juicer For Greens:
Similarly due to its low speed motor(80rpm),you can get nutrient rich juice efficiently.You can get juice from leafy greens as celery,spinach and parsley.Juice obtained by slow processing has more shelf life(72 hrs).
Lastly, this simple but professional appliance contains BPA-free parts. So you can serve juice to your family members without health hazards. Moreover, it is easy to wash due to the easy assembling and disassembling option.
Finally, it is a slow operating appliance with an affordable budget. Due to its upgraded 7 spiral system auger, you can get maximum juicing yield. Moreover, the juice obtained is free of oxidation. Lastly, low noise attributes and BPA-free technology add to its plus points. 
Best compact Juicers:
7-

Kuvings B 6000SR Juicers:

:
Additionally Tritan TM and ULTEM parts protect kids from diseases so you can serve juice to your kids free from health hazards.
Finally, this smart juicer is not only used to make juice from vegetables or fruits but also suitable for babies' food, smoothies, and nut milk.0px50%50%
Finally, it is the best compact juicer and occupies less shelf space in the kitchen. Furthermore, it is quiet in operation so you can make juice without disturbing your family members. In the end, the juice obtained is nutrient-rich and free of oxidation.
8-

Tribest SW-2020 Slowstar:
Additionally its powerful motor is best suitable for hard vegetables and fruits like carrot,root beat etc without chopping.Moreover you can get juice within a few minutes due to good crushing power of a heavy motor.
Finally it is a smart and compact juicer.Moreover, you can have two benefits from it i.e extracting juice from vegetables and fruits as well as making sauces and butter etc.Additionally its strong blades and powerful motor cut down  fruit more quickly.In the end it is good choice for less kitchen space.Check Price on Amazon
Best Juicers By Brand:
9-

Omega Nutrition Center Juicer VSJ843QS:
Additionally its spout contains no drip juice tap.Simply collect the juice in the cup by opening this tap.Similarly tap is closed when you are making juice.
In the end it is attractive looking vertical masticating juicer containing upright feeding chute.Furthermore, its double edge auger can cut hard and soft produce easily.Moreover this praiseworthy juicer works at low rpm hence making juice for long shelf life(72hrs).
10-

Omega J8005-Premium Brand Juicer

:
Another key point is that its unlike Omega J8006HDS Celery Juicer,it comes up with FDA-approved melamine single gear auger. .At such low speed(75 to 85 rpm) you can get nutrient rich juice with maximum yield.Moreover its auger is 8 times more stronger than regular one.To add more its 2 horsepower motor extract juice with long shelf life(72hrs).
Finally it is a versatile slow operating juicer giving maximum juicing yield.Due to the external pulp ejection system,you can get juice without any interval.Moreover due to its strong auger and heavy motor,you can get juice with long shelf life.In the end it is good choice for brand conscious juicer lovers.
Final Verdict:
Leafy greens are enriched with vitamins and minerals.Moreover leafy greens are less juicy.In order to avoid wastage of essential minerals and juicing output,it is recommended to use slow juicers.These best juicers for greens give maximum yield with less foam.
Similarly other factors like washability,pulp jug,juice jug and size are important when purchasing juicers.However slow masticaticating process is noteworthy and should give preference.
In our selection all juicers are top quality but if you need versatility and want to make pasta,nut butter or almond milk,then you should select omega juicers.
If you are a newcomer,then you should first start with best inexpensive juicers.When you become familiar with juicing words,then you should go for expensive appliances.
Likewise if you want to make juice in less time,you should adopt centrifugal juicers.One drawback of these juicers is that these appliances produce heat that can destroy nutrients.But if you need maximum benefits,slow juicers are the best choice.
FAQ's Of Best Juicers For Greens:
What is the best juicer for celery and greens?
Celery and greens contain phytonutrients that fight against cancer like harmful germs. In order to save these nutrients and take maximum juicing yield, cold press juicers are the best choice.
Similarly, these best juicers for celery and greens operate slowly(43-80 rpm). At this slow speed, juicers produce no heat. As heat destroys nutrients and vitamins and the main purpose of juice becomes worthless. Furthermore slow speed of the motor produces no noise and your environment remains calm and silent.
To add more cold press juicers like omega and Koios provide juice that is free of oxidation.Air kill essential oxidants that fight against germs.But by slow action of these juicers no oxidation takes place.Hence nutrient rich juice will produced.
What is the best masticating juicer for celery juice?
Masticating juicers crushes and chews up fruits and vegetables properly giving 15-20% more juice.Celery is a miracle elixir that cures numerous diseases.Moreover celery contains small amount of juice.So in order to extract this minimum quantity of juice,good masticating juicer is required.
In our above mention list maximum juicer are masticating.More demanded ones are:
Omega juicers
Hamilton Beach juicers
Koios Juicers
All these juicers are well known due their multifunctions and slow juice making process.Due to slow operation juice obtained is nutrient rich and free of oxidants.
Furthermore when celery is inserted in these juicers,an auger system crushes and chews up celery fibers.Hence juice extracted is free of foam and full of vitamins.
What is the best juicer for carrots and celery?
Carrots and celery contain strong antioxidants that fight against multiple diseases.e.g example carrot is best suitable for eyes health,heart diseases,brain health,boost brain functions,protect cancer.Similarly celery is also helpful in cancer like disease,lowering cholesterol and many more.
In order to take maximum benefit with minimum effort,a good quality juicer is required.Best juicer for carrots and celery are both both centrifugal and masticating.Centrifugal juicers are best for carrots whereas masticating juicers are suitable for celery.In our above list both types of juicers are mentioned.
Furthermore in centrifugal juicers juice is prepared within few minutes due to slow process of sharp blades.On the other hand juice has less shelf life and less nutrients by this process due to oxidation as well as more heat.Similarly by masticating juicers juice is nutrient rich but these are slow and comparatively costly.
Best centrifugal juicers for carrots:
Mueller Austria Juicer Ultra Power
Breville BJE430SIL Juice Fountain Cold Centrifugal Juicer
Best Masticating juicers for celery:
Omega juicers
Hamilton Beach juicers
Koios Juicers
What are cold press slow masticating juicers?
Masticating juicers are also known as Cold press juicers as these juicers operate slowly and no heat evolved during their operation.Cold press juicer machine juicers contain "auger" that crushes vegetable and fruits completely and extracts final drops of juice.
Furthermore these appliances are best suitable for thin leafy greens.The reason is that these juicers operate at low rpm(60-100rpm)and this slow operation prevents the juice from oxidation as well as from heating which is not in case of centrifugal juicers.
Additionally, these juicers chew and crush food material properly. The resultant juice obtained has long shelf life normally 72 hrs. Similarly, juice extracted is full of vitamins and nutrient-rich.