If you've decided to juice fresh fruits as part of your healthy lifestyle, you may be searching for the finest juicer to get fresh, high-yield juice that is also sustaining for a short period. In such a case, you are in the right spot. I've explained a unique power xl juicer that sets itself apart from the competitors in this post.
What distinguishes this juicer from others, then? Here are all the details you need to know about this little juicer to get a response to your query.
A Power XL Juicer: What Is It?
A self-cleaning centrifugal juicer with three-speed settings, an extra-wide chute, and quality stainless steel blades for high-yield extraction, the Power xl. The fundamental benefit of this juice is that the fruits and vegetables don't need to be peeled, chopped, or otherwise prepared for cleaning. When you're through juicing, you should add a water glass and press the self-cleaning button to make cleaning and maintenance easy.
Also, the non-drip spout is a fantastic feature that sets it apart from other juicers available on the market and gives you clean surfaces while gathering 30% more juice.
Accessories For The Power XL Juicer
Much like every other juicer, the Power XL has several pieces. This is a list of all the parts. Be sure to examine each one to avoid any issues during juice preparation.
Power base and lock bar
Pusher
Includes a pulp guard, a lid, a self-cleaning button, and a chute.
Pulp collector
Blade/filter container with a cleaning spout brush
Safety Features for Power XL:
Without a doubt, juicer producers give their clients modern, durable products. Makers of juicers have added safety features to their products to assure the security of their clients. Power XL distinguishes itself from other appliances because of this feature. Its two primary protection criteria are as follows:
Automatic Shut-Off System Built-In
This function stops the motor when it becomes stuck or overheated while extracting juice. Before that happens, the juicer starts to make a louder noise that signals the motor is straining and should be turned off immediately.
Locking Bar
Another incredible safety feature is the locking bar, which locks the juicer's cover and prevents the engine from starting if it is not in the proper position.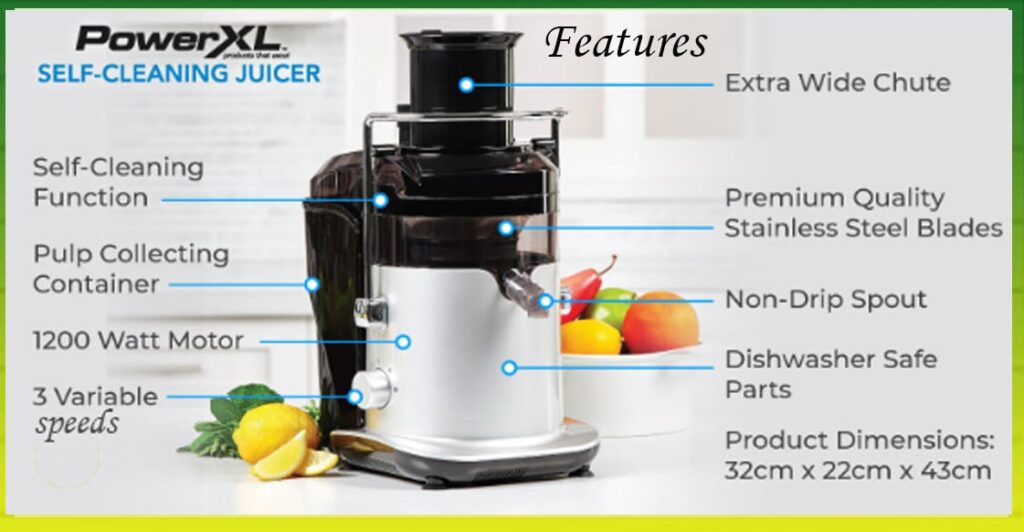 Characteristics Of Power XL Juicer:
Below are the traits of the power xl centrifuge juicer you need to know:
Capacity for extra-wide chutes
To save time peeling, chopping, or crushing fruits and vegetables, the power xl juicer has a small capacity to accommodate larger chunks of produce. A chute is a short, steep side tool that positions things for liquids to fall through.
Three varying speeds are available.
While creating juicers for Fruits, manufacturers occasionally skip offering multiple speed settings or only provide two. But only the power xl has three-speed settings, allowing users to extract healthy juice as required.
The first speed level is designed for delicate foods, the second for medium-weight components, and the third for hard objects like celery.
Detachable, drip-free spout
Another great feature of the powerful juicer is its non-drip spout, which spins upward to stop drips and let users keep their countertops clean. Moreover, if you want to remove the spout during juicing, click away.
Fast-moving motor
With the size of the chute and additional features like a non-drip spout, you might be concerned with the quality and power of the motor. During juicing, its motor operates at 1200 watts at up to 23000 Motor speed without producing additional heat or strain.
CHOICE OF SELF-CLEANING:
Who doesn't appreciate using a juicer without worrying about cleaning every part after use, about naming just one more thing? Customers can flush their instruments with Power XL to clean them independently and prevent clogging by removing all pulp.
Just close the juicer opening, pour a glass of water, and hit the start button to have a fully cleaned juicer in front of you. However, if any leftover or grease remains on the parts, it's better to wash them with soap.
Directions For Usage:
People frequently go to the market to buy new juicers after grumbling that their old ones quit working within a few months. This frequently happens when users misuse technology or don't know how to utilize it properly. So, consider some of the essential safety precautions before using your juicer.
The first thing to remember while making juice is to slice the ingredients into pieces that can easily pass down the chute. This is due to the potential for large, strong pieces to reduce the quality of the blades and motor.
To plug the power cable into a 110v outlet, ensure your device is on a stable countertop.
Slowly turn on the appliance so it can run for a few minutes before juicing.
Spout should be directed downward and completely lined up with your container.
While making juice, push the ingredients in a straight, steady motion toward the chute.
As quickly as you are finished, clean the juicer.
How is the power XL juicer used?
Since Power XL is a centrifugal juicer, it uses centrifugal force. Unlike twin gear or masticating juicers, this juicer is completely different from theirs. Thus, it would be best if you used prudence. Here are some guidelines to assist you in learning how to use the power juicer xl.
To line the juicer spout with the container, remove the paper guard.
Connect the plug, add the minor components, and then push the start button.
The object should be pushed in the direction of the chute.
After finishing, add a cup of water and activate the self-cleaning feature. You will find the cleaning process easier as a result.
After using them, immediately clean the remaining instruments and store them securely.
Disassembling The Self-Cleaning Attachment
Slide the locking bar downward.
Turn it over after removing the lid and trash guard.
Unscrew the lone screw closest to you to detach the self-cleaning brushes from the lid.
The self-cleaning rod will slip off together with the screws, wiper, cleaning brush, dryer, and spring.
Self-Cleaning attachment should be cleaned or changed. For replacement components, get in touch with customer support.
Self-Cleaning Attachment Reassembling
Springs, screw, cleaning brush, dryer, and screw are the sequence in which the cleaning attachment should be reassembled.
Manually tighten the screw to ensure it is secure and won't come loose while in use. Avoid stripping the screw by overtightening.
Before each usage, ensure the screw is fully inserted for optimum effects.
FAQs
The power XL juicer, what kind of juicer?
With a quick and easy cleanup, the PowerXL Self-Cleaning Juicer is centrifugal for elevated juicing at home. It features three customizable speeds, an extra-wide chute, and better stainless steel blades.
Does my juicer need to be cleaned after every use?
All juicers must be washed after each use. The tiny pulp particles may quickly harden, which will make it more difficult to remove them later. Food particles will not decay if cleaning is done on time. Cleanup should be a small part of your regular juicing routine.
What is the Power XL juicer's warranty period?
A 90-day money-back guarantee is offered on the PowerXL Self-Cleaning Juicer. Send your product back if you're not quite satisfied with it and get a refund or replacement. There must be purchasing documentation.
What is the power xl juicer price?
The PowerXL Self-Cleaning Juicer is a centrifugal juicer with high extraction that almost cleans itself.PowerXL Self-Cleaning Juicer costs $104.96, plus delivery is $14.99, for a total cost of $119.95.
Final Thought
The Power XL Juicer is placed in the market for a good reason. The device stands out thanks to its high-speed engine, non-drip nozzle, three-speed control levels, and self-cleaning capabilities, among other wonderful features. Hence, if you're looking for the best juicer for fruit and have to choose between a masticating juicer and a power xl, go with the latter.
See the information above for further details before judging any juicer.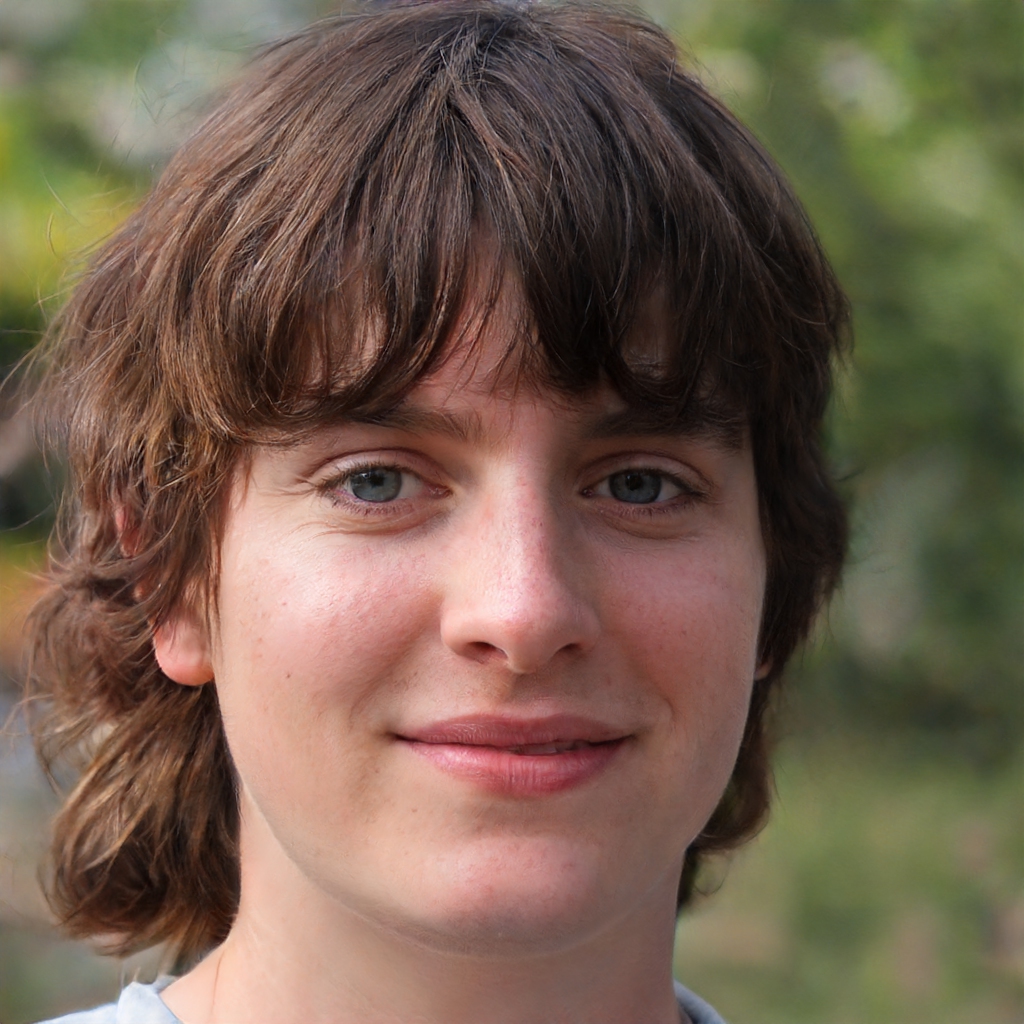 I am Lisa Haley and I love digital marketing. Write content that is user-friendly. Try to present things in a very simple but detailed manner. Research and data mining is my hobby. Optimize dozens of websites with proper SEO and by keen research.